Translation management
From the Document Library, after configuring your translation options (content folders and languages), you can access the new translation dashboard on any DITA map: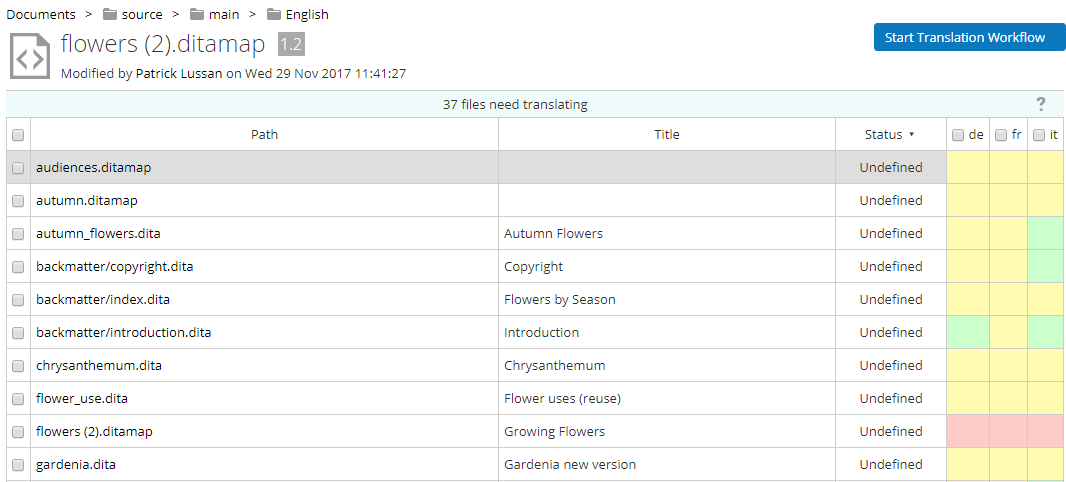 From this page, you can see the status of your exports and imports for each document used in the map, as well as initiate new translations using Alfresco workflows. Those workflows go through all the necessary steps to make sure your documents are translated properly. The Translation management is built on top of the existing release management feature, and thus Componize will be able to merge all the translated content back into Alfresco seemlessly.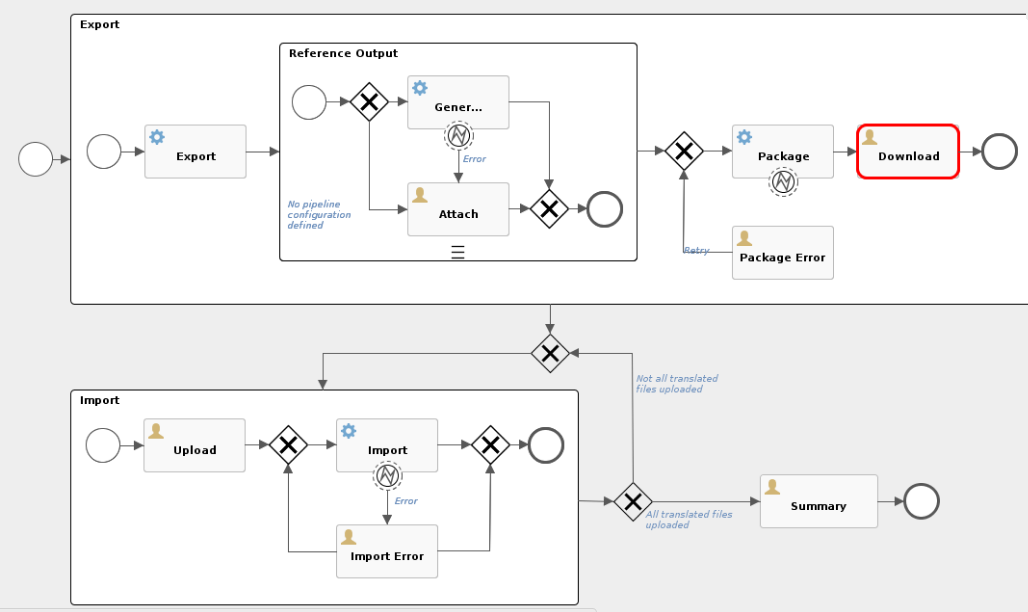 Rendition service
With the new Rendition feature you can configure transformation options to define automatic renditions of your images.. You can then make use of those renditions in any output processing by simply configuring an XML Catalog.
Default renditions are configured out of the box in Componize for the most popular image formats, but you can define your own renditions to fit your requirements. Renditions can be accessed through the Componize VFS using a new dedicated scheme and you can define rendition aliases to map between any rendition names.
Web Authoring solutions
In an effort to make authoring more accessible, we've integrated with the most popular web authoring tools available. Componize now added support for oXygen web author and FontoXML to edit content from your browser.
As a result we are dropping support of the old oXygen Author Component as the Java applet technology is no longer supported in most browsers.
New Alfresco Share modules
Some existing as well as new Componize features are now packaged as Alfresco Share modules (accessible from /share/page/modules/deploy) to customize the user experience more easily.
Table 1. modules list

| module name | Feature |
| --- | --- |
| componize-cmis-action | Open your content in oXygen desktop via the Componize oXygen plugin |
| componize-share-oxygen-webapp | Open your content in oXygen web author (requires local installation) |
| componize-fontoxml | Open your content in FontoXML |
| componize-outbound-links | Add support for Outbound Links in the Document Library |
Minor changes
You can now perform Check Out, Check In, Cancel Checkout on multiple documents in the Document Library

A new SVG content transformer has been configured in Alfresco to generate thumbnails and previews of SVG documents.
A new XPath extractor bean has been implemented to support XPath functions when extracting metadata from your XML content.